Gesture Chair by Steelcase
Want yours today? Shop our in-stock options here!
The Steelcase Gesture Chair is a technological marvel that is revolutionizing the way we work, live, and behave. The rapid pace of technological advancements has made it necessary for us to stay connected to our devices throughout the day. The Gesture Chair has been specifically designed to support the demands of our fast-paced, technology-driven work environment. The chair's design is inspired by the movement of the human body and offers unparalleled support for a range of postures and movements. Its unique design allows us to move and change positions without sacrificing comfort or productivity. With its multiple adjustments, the chair can be customized to fit the unique needs of each user, ensuring maximum comfort and support.
The Steelcase Gesture Chair is more than just a piece of furniture, it enhances our productivity and well-being. It is designed to reduce the physical strain that comes with long hours of sitting and to promote healthy posture and movement. The chair's intuitive design makes it easy to use, and its aesthetic appeal makes it a beautiful addition to any workspace. The Gesture Chair is an innovative and practical solution to the challenges of modern work environments. Its ability to support our interactions with today's technologies makes it an indispensable tool for anyone who spends long hours sitting at a desk. Its unique design, comfort, and support make it a must-have for anyone looking to improve their productivity and well-being in the workplace.
Features:
A New Level In Comfort-The Gesture sports the largest range of adjustments of any Steelcase chair
Immediate Feedback-Unlike many ergonomic chairs, you'll notice changes the moment you make them
Unparalleled Style-Modern design that complements todays office
The Core Interface-The Gesture back and seat move as a synchronized system moving with each user to provide continuous and persistent support. The back cradles the user no matter the posture or device
The Limb Interface-The Gesture arm moves like the human arm, which allow users to be supported in any position. Arms and shoulders remain supportive when texting on a smartphone, typing on a keyboard or swiping a tablet
The Seat Interface-The Gesture seat brings comfort all the way to the edges. It is flexible at the perimeter to allow users to sit in a range of postures without obstruction
Gesture with Headrest available
Gesture Stool available
ADDITIONAL OPTIONS AVAILABLE. CALL 888-467-6278 TO SPEAK WITH A KNOWLEDGEABLE TEAM MEMEBER TODAY!
Video: How to Adjust Your Gesture
| | | | |
| --- | --- | --- | --- |
| Overall Depth | 22.5" - 24" | Back Width | 16.25" |
| Overall Width | 22.25" - 34" | Recline Angle | 98 - 125 degrees |
| Overall Height | 39" - 44" | Arm Height from Seat | 7.25" - 11.5" |
| Seat Height | 15" - 20" | Distance between Armrests | 10.25" - 22.5" |
| Seat Depth Adjustment | 21" - 23.625" | Armcap Pivot Range | 15 degrees |
| Seat Width | 20" | Armcap Depth Adjustment | 2.125" |
| Lumbar Height from Seat | 5.25" - 9.25" | Weight Capacity | 400 lbs |
Gesture redefines the relationship between you and your chair. Voted best office chair, its 360-degree arms, contoured back and adjustments are designed for all the ways technology shapes your posture. For any custom options below, call or chat with a product specialist to build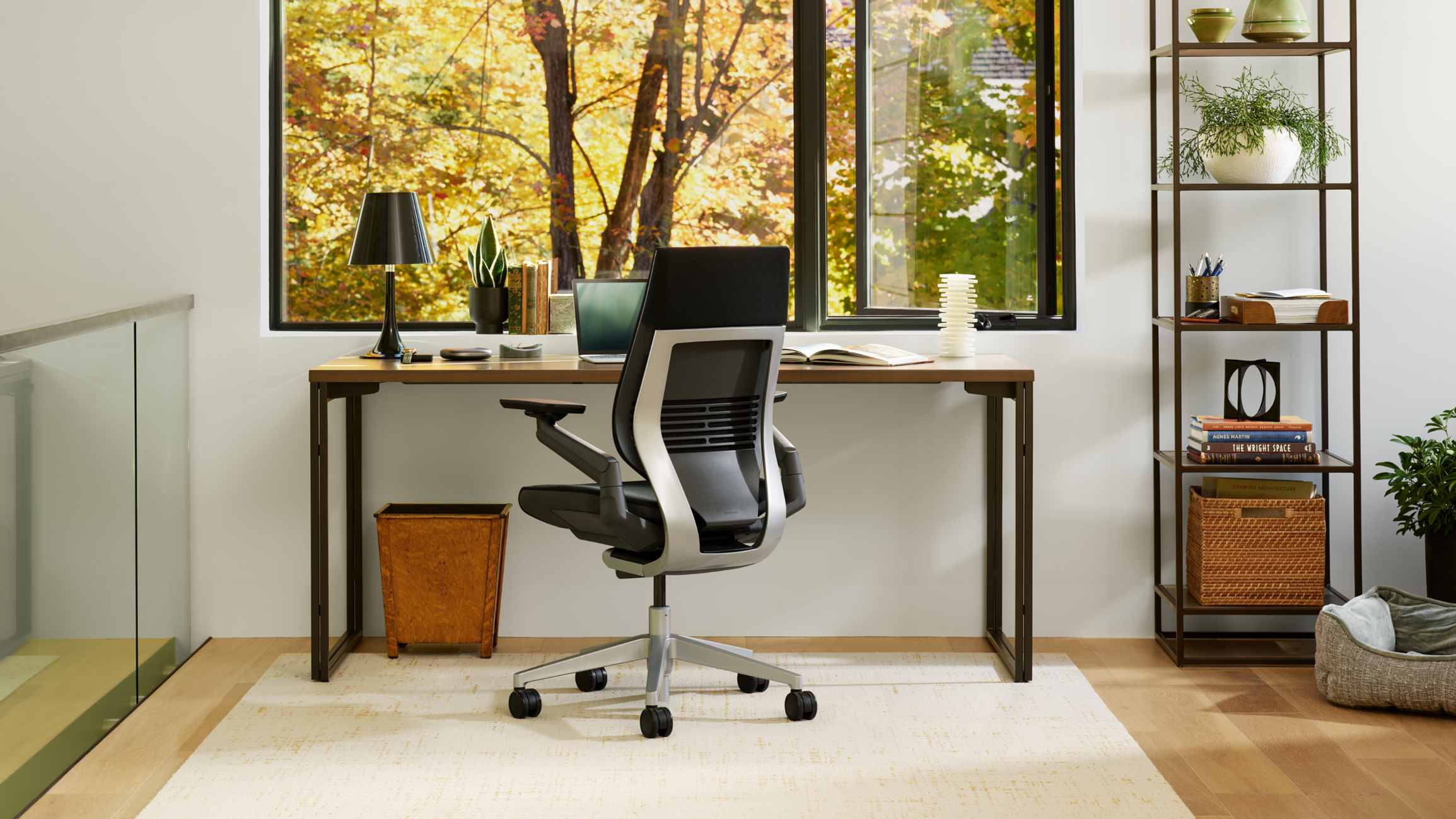 Steelcase leads the way in creating great experiences by offering a range of architecture, furniture and technology products and services designed to help people reach their full potential. Our comprehensive portfolio is anchored by three core brands: Steelcase, Coalesse and Turnstone. Together with our partners, we design spaces to help people work, learn and heal. Protecting the environment is in our DNA, we drive sustainable social, economic and environmental change through our decisions and actions. At Steelcase, we don't just do what's right, we do what's best - for people and for the planet.
Established in 1912 as the Metal Office Furniture Company, our first patent for a metal wastebasket meant safety for office workers. In crowded cities where fires spread quickly, replacing wicker with steel was a lifesaving innovation. Founders Peter M. Wege, Walter D. Idema and David D. Hunting built the business in Grand Rapids, Michigan - a city then known as "The Furniture City" because of its many wood furniture manufacturers.
By 1919 the company began to establish its dealer network, making desks, cabinets and other products available nationwide. Officially known as Steelcase Inc. beginning in 1954, the company grew globally and executed the largest single shipment in the industry in 1973, providing over 400 truckloads of furniture for Chicago's Sears Tower. Steelcase became publicly traded in 1998. We've been looking forward since the beginning. From our early years to 21st-century breakthroughs, Steelcase turns insights into innovations and pushes limits to transform and reimagine the workplace.
OFFICIAL STEELCASE RETAILER
Smart Furniture is a authorized Steelcase retailer! This means we're official. At Smart Furniture, we sell new factory-direct items complete with Steelcase's own warranty. You can purchase confidently from Smart Furniture knowing you'll be receiving genuine Steelcase product.
Care Instructions
Gesture Chair Care Instructions
Steelcase Warranty
Global Products Warranty
Americas Limited Lifetime Warranty
Use the Global Products Warranty when you purchase select products for install around the world where the same warranty is required, regardless of location. Refer to the Global Products Warranty for a list of global products. Products that are not included in the Global Products Warranty are considered regional products and will continue to be covered under existing Americas Limited Lifetime Warranty. Surface materials will continue to be covered in the regional warranties.
FAQ
Is a Steelcase Gesture worth it?
Inspired by the Human Body's natural movement, Gesture takes into account various body types and sitting preferences, quickly adjustable to meet the needs of each individual user. Users can adjust the Gesture chair as easily as adjusting their posture.
How Heavy is the Steelcase Gesture?
The Gesture chair by Steelcase weights 78 lbs
How are Steelcase Gesture chairs better than a more inexpensive chair?
Built to last and with all of the ergonomic adjustments rolled into one great chair, the Gesture Chair will be the last office chair your purchase.
Does the Steelcase Gesture Chair offer Lumbar support?
The Gesture has great lumbar support! The back contour is curved so as to fit right into your lower back and encourage you to roll your shoulders back and sit up straight.
Is the Gesture Chair hot?
The upholstered seat and back can feel a bit warm if you tend to run hot. The Cogent Connect fabric offers a bit more breathability with its double layered fabric that allows for air flow.
How Long will a Steelcase Gesture Chair Last?
Made with high-density seat foam and sturdy plastic frame, the Gesture is built to last. A 12 year warranty helps, too!
Care Instructions
Upholstery options include Era fabric, and Cogent Connect fabric.
Era is a subtle, two tone polyester fabric containing stretch in both directions for ease of upholstery. The baby herringbone weave offers an understated contemporary texture while its coloring technique provides close up intrigue. The palette incorporates playful brights and sophisticated muted tones.
Cogent Connect Fun, modern colors. It has an even hole pattern and is very smooth and durable. Softer and more breathable than Era.
Era and Cogent Connect are all made from 100% antimony-free polyester, and are rated at 100,000 double rubs on the Wyzenbeek Test. We suggest googling "Wyzenbeek Test" if you're not sure what it that is, but it's basically a machine-driven test that measures the durability of fabrics.
Black: Black frame, base, arms, and cylinders

Light: Platinum Metallic frame, with Seagull seat perimeter and back, and Dark Grey arms

Dark/Light: Platinum Metallic frame, with Dark Grey seat perimeter, back, and arms
You can choose either an exposed plastic shell back, a Wrapped Back (which is upholstered to the top of the frame), or a Wrapped Back and Added Headrest.
Select to add additional lower back support with an adjustable lumbar.
Carpet Casters are made of hard plastic, and work well on carpet.

Hard Floor Casters are softer, with a polyurethane tread, which gives better traction on hard surfaces without the rolling noise of the harder casters.