Mirra 2 Chair
by Herman Miller
The Mirra 2 Chair represents a rethinking of one of Herman Miller's most successful office chairs. Acclaimed by Wired.com as the best of 6 task chairs in a recent test, Mirra 2 features a redesigned back and a tilt mechanism that allows you to smoothly move from one posture to another. This beautifully engineered office chair ably responds to the needs of a workplace in motion, moving smoothly from collaborative to tasking positions as you move, and creates an incredibly comfortable sitting pocket. At top-tier price, that's what you'd expect. But you get even more than you pay for with the Mirra 2 Chair. It really is more comfortable than most high quality chairs. That's what we call a chair that gives you more bang for the buck - and more comfort during your daily work.
Features:
Better Butterfly Back
Check out the video below to see it in motion - it's supportive and strong

Redesigned Seat
More airflow means better temperature control. Better temperature control means that you'll be more comfortable for a longer period of time. This is no small improvement, folks.

Smoother Tilt Mechanism
For those about to rock, we salute you. Mirra 2 has an improved harmonic tilt mechanism that makes your transition from an upright seated position to a laid-back recline effortless and smoother than smooth. Many of us need to move between those positions frequently, and Mirra 2 makes it easy.


Eco-conscious Design
Mirra 2 is 22% lighter than the original Mirra, giving it a 25% smaller carbon footprint. That's a significant reduction, and a demonstration that this chair is a responsible choice when it comes to the environment.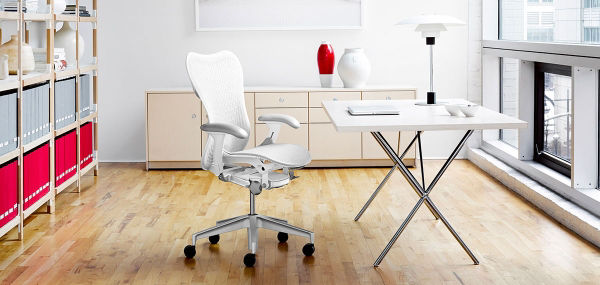 The Herman Miller Mirra 2 Chair is also known by the following manufacturer item numbers: MRF, MRF1, MRF2, MRF11AWAFAJ, MRF21AWAFAJ.
Materials:
The Mirra 2 Chair's components are constructed from steel, plastic, aluminum, foam and textile.

Mirra 2 chairs have a new composite base made of glass-filled nylon. The new base meets all current BIFMA standards and maintains all environmental certification levels, and offers improved scratch/scuff resistance in response to customer requests. Visually, the new base is ultra-similar to the old base unless viewed from less that two feet away. With the material change from aluminum, the recycled content of the Mirra chair has changed from 42 percent to 33 percent.

Dimensions:

Low-Height Range:
Overall: 37.25" - 41.75" h x 27" w
Seat: 15" - 19.5" x 17" d

Standard-Height Range:
Overall: 38.25" - 42.75" h x 27" w
Seat: 16" - 20.5" h x 17" d

Extended-Height Range:
Overall: 38.25" - 43.75" h x 27" w
Seat: 16" - 21.5" h x 17" d

The Standard Height Range is the default selection when you customize your Mirra 2 Chair with Office Designs. For low or extended height options, please call a Office Designs salesperson at (877) 977-0989 for assistance.
The slogan for the new Mirra 2 Chair is "Together in Motion." The tagline couldn't be more fitting, since the chair responds in a unified way to the movement of your body. The Mirra 2 Chair is designed to adapt to slight weight transfers and shifts in movement. After the success of the Mirra Chair, Studio 7.5 made the Mirra 2 Chair even leaner and lighter - advancing how you sit, how you work, and how you move.
Care & Maintenance

With regular care and maintenance, your Herman Miller product will provide many years of superior performance and satisfaction. To maintain quality, please follow the cleaning procedures outlined here.

The instructions for the care and maintenance of Herman Miller products are provided to you as a service. No warranty is implied since results may vary.

Mirra 2 Chair Care and Maintenance Guide