Steelcase QiVi 5-Star Base Chair
designed by Steelcase Design Studio with Stefan Brodbeck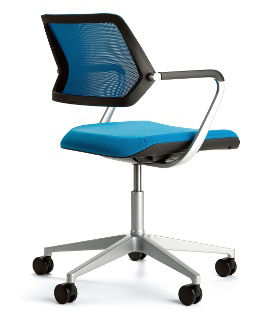 At A Glance:
We're more effective at work when we're comfortable, whether at our desks or at the conference table. Sadly, there aren't many meeting chairs that are actually comfortable. Steelcase came up with QiVi to counter that trend. This is a conference chair makes it easier for you to stay engaged in meetings. QiVi adjusts to your posture. You'll see fewer yawns and more ideas with the QiVi 5-Star Base Chair.
What's To Like:
Pivoting Back
The QiVi Chair comes standard with a pivoting backrest, which freely tilts to give the sitter a tailored seat back angle. Whatever position you're in, QiVi's backrest will feel right. Due to the pivoting angle, the edge at the top of the backrest creates no uncomfortable cut-off - so even we tall folks have reason to rejoice. Oh, and it's breathable, too.

Sliding Seat
The QiVi Chair (both sled base and five-star base versions) features an optional sliding seat pan. For a conference chair that is supposed to fit everyone in the building, that's great news. You won't feel like you're having to work to stay comfortable. QiVi's seat moves with you no matter what your position.

Sustainability
Not only is the QiVi Chair PVC-free and made from 27% recycled content, but it's also 99% recyclable by weight. And all plastic parts are labeled for sorting if you should ever decide it's time to recycle QiVi. See below for more environmental information.

Obvious Beauty
- 2012 Spark Design Award (silver); North America
Product Design category

- Good Design Award; North America & Japan
better living through better design

- 2010 Red Dot Award; Germany
Product Design category

- 2010 iF Design Award; Germany
useful product of superior value
QiVi 5-Star Base Chair Features:
Easy-rolling caster base
Optional sliding seat
Standard Pivoting backrest
Fixed-height seat
Optional fixed arms with plastic grips
Indoor Advantage Gold certification, for indoor air quality
Tons and tons of fabric choices. Really, tons.
Made in the USA
The QiVi Chair is comfortable when you are:


The Steelcase QiVi Chair is also known by the following manufacturer item numbers: 428510, 428310.
Materials:
Base and Frame: Powder-coated steel, glass-reinforced nylon, polypropylene (base/frame)
Buzz2 Fabric: 100 percent polyester and extremely durable, soft and breathable, yet more coarse to the touch when compared to Cogent
Cogent Connect Fabric: 100 percent antimony free polyester, tightly woven knit pattern and slightly softer to the touch than Buzz2
Elmosoft Leather: Soft and pliable Semi-Aniline leather known for its comfort and durability. Natural markings add to the elegant quality of Elmosoft Leather.

Dimensions:
Overall: 33" h x 22" w x 26" d
Seat height: 17.5" to 22"
Arm height: 9"
Seat Width: 18.5"
Width between Arms: 19.9"
Depth: 21.75" - 24.75"
Seat Glide Range: 1 inch
Care and maintenance:
Plastic and painted parts: Clean using household cleaner (Fantastik or 409) and wiping with a soft, dry cloth.
Fabric: Use a handheld vacuum cleaner for cleaning. Do not steam clean. Most stains can be removed by applying a mild soap to a slightly damp cloth, then rubbing it gently over the stain. Wipe dry.
Steelcase Warranty
Global Products Warranty
Americas Limited Lifetime Warranty
Use the Global Products Warranty when you purchase select products for install around the world where the same warranty is required, regardless of location. Refer to the Global Products Warranty for a list of global products. Products that are not included in the Global Products Warranty are considered regional products and will continue to be covered under existing Americas Limited Lifetime Warranty. Surface materials will continue to be covered in the regional warranties.
Care Instructions